Xtenit Platform Features Description
Publishing
Xtenit lets you get more from your online publications. Why struggle with multiple technologies and vendors for email, content management, and ad serving when one unified solution can provide the synergies needed to lower operational costs, build audience value, and increase revenues.
With the Xtenit Platform you can efficiently manage operations and easily publish across media types. Efficient work flows let editorial, ad sales, marketing, creative, and audience development people focus on their missions without operational distractions. Advanced features like content targeting, subscriber customization, and alerting let you effectively grow your audience, build loyalty, and increase value to your readers. For advertising supported publications integrated ad serving across media and ad targeting provides publishers more product and value to offer advertisers. For paid content Xtenit supports multiple paid subscription models with integrated payment options.
Scalability
Whether you are an individual blogger looking to better serve your readers or large group publisher needing to manage web content and email communications across multiple publications Xtenit has the solution for you.
Packed with features and fully scalable, the Xtenit Platform will adapt to your growing needs. Also there is never any vendor branding in footers, headers, URLs, or anywhere else. It is always 100% your site and your design all the time.
---
Mobile
Get a fully integrated mobile website ready to go with all the HTML5 features needed to give your subscribers a rich mobile experience. Your subscribers wont know the difference between your mobile website and a expensive dedicated mobile app. Device content storage and offline usage tracking let subscribers view your site when offline while still tracking what they viewed. Mobile optimized menus and full touch support make it all look good and easy for your viewers.
With the Xtenit mobile detection mobile is seamlessly integrated into your regular website. No need to manage two sites or two sets of URLs. So whether your getting new visitors from search, linking from emails, or sharing article links it will always be the same URL. No missing links, redirection, or complex transitions between mobile and desktop.
The hard part of building a top HTML5 mobile website is done for you. Just put your site on Xtenit and your mobile web will be ready to launch.
Website Management
Use Xtenit to manage any aspect of your web presence. From micro-sites to full websites, Xtenit can host all your content and subscriber pages or just the pages you want us to. Point sub-domains to Xtenit and easily manage multiple sites and versions. Have sandbox sites, beta versions, and mobile versions. Create alternative sites with shared content and easily support multiple publications from the same content channels.
Site creation is a breeze with easy to use Content Insertion syntax for querying and displaying content or managing subscriber forms and interactions. Server Side Includes are implemented to make custom web template management easy and intuitive. Xtenit provides a complete and robust Web Content Management system so you can create a completely customized site quickly without limitations.
Need a really quick start? Just upload a page from your existing site or the HTML sample from your designer to the default web template and add static pages. Dynamic pages for content display, search, and content navigation by date and topic are automatically generated to your configuration. Xtenit will manage it all, and automatically assure that all pages are search engine friendly.
---
Communication Channels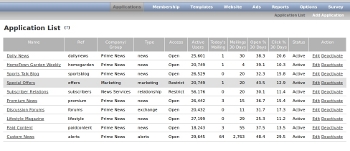 Use Xtenit to create and manage multiple communication channels. You can use one channel for your newsletter and one for your marketing applications. Add channels for different publications and audiences. Set up channels for managing blogs and publishing content to RSS and the web. Each channel has a separate configuration and subscribe/unsubscribe options. So it is easy to customize a channel for your particular needs. For example, add a channel to collect posts from anonymous or registered contributors, or to manage restricted access content. Choose from several applications types to create channels for newsletters, customizable alerts, email marketing, auto triggers, event lists, publications, blogs, customizable RSS, data collections, and many more.
All channels maintain a unified underling database so subscriber data is automatically shared across channels. Target email communications and dynamic newsletter content based on cross channel membership.
Registration pages and preference centers are automatically created. So as you add or deactivate channels your registration and landing pages will be automatically adjusted to include the channels you want to include.
Audience Management
One unified database across all channels makes list and database management a breeze. No need to manually de-duplicate entries or update multiple lists. Bounce back management on your email communications is fully automated with detailed reporting and optimized deactivation that considers recurrence, type of bounce, and ISP.
Add an unlimited number of profile fields to your subscriber database and do ad-hoc queries for reporting and analysis. Subscriber tags make it easy to apply multiple tags to your subscribers for targeting, suppression, and reporting.
---
Newsletter Publishing
Use the blog like publishing features to quickly create your newsletters. Enter articles directly or pull content from your other content management systems or any RSS or XML feed. Select your template and preview what your newsletters will look like in multiple email readers and web mail programs. Embed ads and marketing messages into your newsletters and manage them separately from your content and articles. Target specific articles and ads (or marketing messages) to any segment of your audience without having to send multiple newsletters. Publish to your newsletter and/or optionally to the web and RSS feed at the same time.
Automation options let you pull or collect content and push out newsletters automatically with no manual steps.
Email Marketing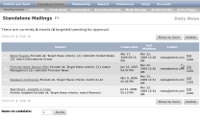 All the tools and features you need for effective email marketing. Send special promotional mailings and other communications. Maintain multiple subscriber profiles with an unlimited number of data fields and values and use them to more precisely target, segment and analyze your email communications. Do sophisticated A-B splits to optimize subject line and copy. Use activity targets to target those who have or have not already opened or clicked on a campaign. Manage multiple campaigns easily and tag mailings for custom reporting. Maintain archives of past mailings and create copies for subsequent mailings. Setup automated mailings that target select users after defined interactions like clicking on links or after being added to a channel. Use customizable templates or load creative designs directly from your designers.
---
Surveys and Forms
Use the auto survey tool to easily create survey forms or use your own forms and embed them in any web page. Email the surveys or survey links to your audience and unless you specify otherwise, we will make sure only those on your send list can respond and that no one can respond twice.
Use the forms option to collect subscriber data and manage event registrations. Send reminder notices to those who have not responded.
Ad Serving
Integrated ad serving makes it easy to manage ad and marketing placements across media. Assign variable ad types to web, email, mobile, tablet, or RSS. Control ad placement by date, time, impressions, or page location. Use automated ad rotation or prioritize by ad type to overload placements or support multiple ad placements in a single slot.
Target ads by demographic, content context, or channel membership. No need to waste ad placements for viewers outside the target range. Automatically serve alternative ads to those not included in the target.
Full tracking and reporting across media gives full view of ad performance and value proposition to advertisers.
Restricted and Paid Content
Set up paid membership with configurable trial periods, promotion codes, integrated credit card processing and direct integration with your merchant account. Easily control what content items are free, paid or mixed.
Restrict select articles, showing summary or just a few paragraphs while leaving other articles and content completely open.
Sell reports, data downloads, e-books, and other one off publications with integrated e-commerce.
---
Advanced Reporting Features
Get reports you can use to advance your publication and marketing goals. For your email newsletters get all the read, open and click rate details you need. Also separate reporting for ad and editorial content allows you to provide
in depth analysis for your advertisers and editorial teams.
Automated categorical data analysis is available for all comparison reports and cross tabulations. Do comparisons on selectable click, open, and visit behaviors or compare ad and editorial performance or subscriber trends . For full data mining select arbitrary data sets, columns, and cross tabs. Color highlighting provides instant visual reenforcement of significant factors.
Get reporting and analysis on site visitors, and view web stats and email stats together to get the full picture. Also, Xtenit provides all your data in augmented web log format for easy integration into external web analytical packages.
Subscriber Preference Centers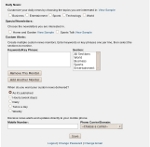 Let subscribers tell you what they want to be informed about and when and how they want to receive it. Go beyond simple newsletter selection and let subscribers customize the content in their newsletters and alerts. Create sophisticated alerting and notification applications with multiple selection criteria and delivery times.
---
100% SaaS and in the Cloud
With the Xtenit Platform there is no expensive software to install and manage, no fancy server setups required, and no complex middleware to worry about.
All of the services are accessible via the Internet with your web browser, making the Xtenit Platform highly cost effective compared to other alternatives.
Deliverability
We will monitor all your bounce backs and take corrective actions against spam filters and block lists to assure that you have the highest deliverabilty with all your email communications at all times. No need to manage this yourself or pay for expensive reputation services. All whitelisting, reputation, and delivery management is done for you.
Integration
Only need part of what Xtenit has to offer? No problem, easily integrate with external content management systems, subscriber databases, web hosting systems, etc. Our many APIs make it easy to get and sync the information you need, and to automate your workflows.